I have always been sceptical of Bluetooth headphones and earphones, having tried and even bought a number. The technology either reduced sound quality to an unacceptable level, or else the Bluetooth is sporadic in operation, turning off at the slightest excuse, or often that the technology takes precedence over the sound quality of the speaker diaphragm.
At a time where Bluetooth earphones are becoming increasingly visible in the high-street, indeed I see them as the next 'big-thing', it is no wonder that I am excited at being given the opportunity to hear a Bluetooth IEM from a company producing high-end ear speakers. As I write there are rumours that the next iPhone 7 might not even have a 3.5mm earphone socket in order to keep the unit thin, so a high quality non-wired ear-set is needed to fill the space presently occupied mostly by those lesser-known brands by ex-rappers or those available by online companies. Whilst 3D TV and even those lovely curved tellies are going to be a "here today, gone tomorrow" topology, I seriously believe that non-wired earphones will take a major role in mobile music of the future. I spent 25 years between shifts at the BBC sitting on trains listening to music on my cassette, then portable CD, then portable DAT, and then regrettably the MP3 player, with the constant problem of coiled up wires, broken cables, or the cables getting trapped by my clothing so that the IEMs fell out of my ear. I yearned then for wireless earphones, but they had not yet been invented.
The BE6i is a very new product, in some respects similar to the BE6 before. That product was well received by the audio-press. This "i" improved version has a better battery life of around 8 hours (I achieved slightly more in my reviewing) and have better protection against rain and sweat. Unlike the 'plasticky' models appearing in online shops, these are made from aluminium and certainly have that "made to last" quality. They also feature aptX® and AAC compatibility, so allow better audio streaming. Even answering calls from my mobile phone was quick and good quality (both ends of the line). More than that, they look gorgeous. The solid metal results in better sound; I first audibly could hear the effect that metal cases have on earphones about 10 years ago, but only recently when reviewing the various metal variants of the Flare R2Pro. The difference between the aluminium, stainless steel and titanium versions was more profound than the weight and chemical makeup. The BE6i therefore feels tougher than many similarly priced IEMs. They are also water-resistant (IPX5 certified), just in case you like to listen in the shower.  To put all this into context, IPX0 means it's not waterproof, IPX1 means it will be protected by the occasional drop, all the way up to IPX8, which is totally waterproof up to 3 feet under water. Whilst the UK weather luckily only occasionally gets that bad, IPX5 is guaranteed to protect from water jets in all directions, so you can safely listen to Handel's Water Music whilst washing the car. The box they come in might be nothing to shout about, but once you open it up it is pretty clear that they have thought of everything here. As well as the best looking and solid hard-case to put the earphones in so that they cannot be damaged whilst bumping around in your handbag, they also come complete with a plethora of earbuds. There are six sets of silicone ear tips. Three sets are slightly shorter than average ear tips offering greater comfort when used for prolonged periods. The other three sets are longer and therefore form a more secure fit in your ear canal, being designed for those with an active lifestyle. As well as this there are two sets of my favoured Comply™soft foam ear tips, with their better noise isolation and ability to stay put when moving about. If that is not enough, they also come with what I term as "Spock" wingnuts that you attach between the aluminium barrel containing the very large 10mm driver and your chosen ear tips. I only wish the space was slightly bigger as it does mean that if you choose the longer length ear-tip it has to be slightly squashed in order to fit both items onto the frame. This only became a problem on a few occasions when removing the earphones the Comply ear tips remained in my ear. When in use, though, the Spock wingnuts tightly and comfortably fit in your ear auricle to keep the unit sat secure so that you can play music without the worry that they will fall out when you run to get out of the rain. The wingnuts are made from silicon and have a hollow "spring" design to keep that comfort greater and more secure.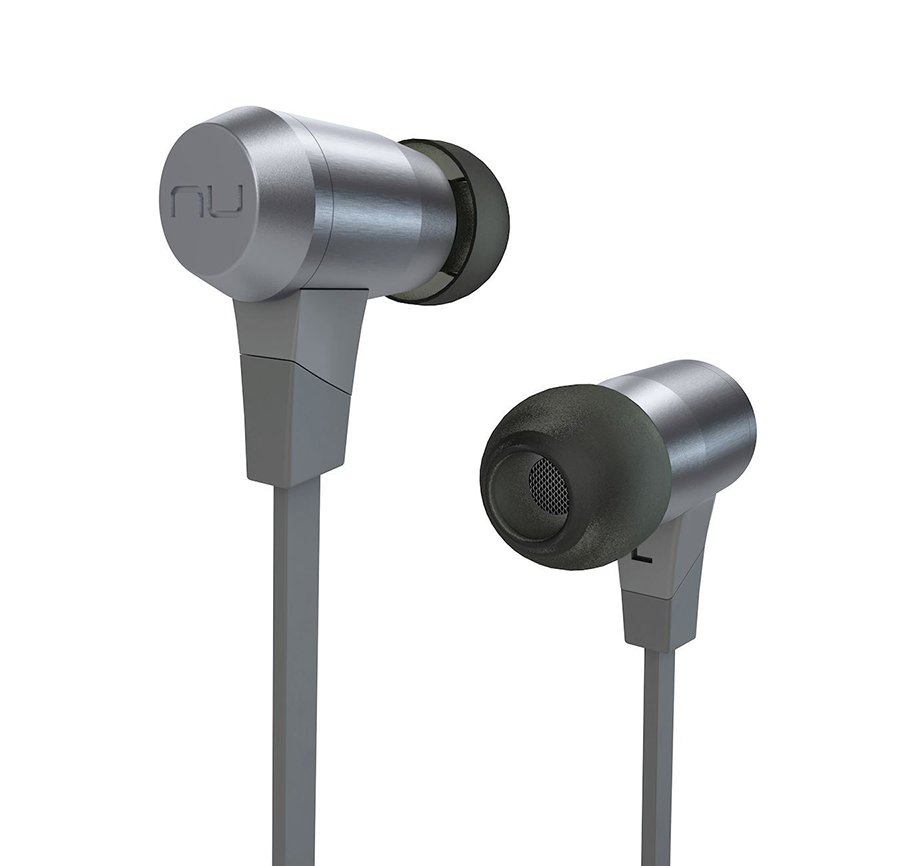 As mentioned, the BE6i contains a very large 10mm driver. This doesn't mean the bass will go down below 20Hz, as that is very much decided by the Bluetooth®. Rather, it gives a very flat frequency response and ultimately eliminates unwanted reverberations that would otherwise affect the frequency curve. This is a very musical player that played whatever fed to it without complaints. The driver is made from a high-grade titanium and magnesium and inert metal is used to form a thin nano-layer over its surface. This precise mixture of metals, along with the help of a circumferential copper ring, allows the driver to maintain what they term as 'optimal structural integrity for distortion-free sound even at high volume levels'. Indeed, the sound was unstressed, whatever I played. The patented driver selected for the BE6i is designed to maintain a constantly accurate impedance curve, resulting in improved sound quality from any source whatever the frequency. This also has the added benefit of extending battery life, which at 8 hours is 25% longer than their previous Bluetooth® IEM, and is very good by todays' averages.
In recent years there are simply hundreds of new headphones and IEMs appearing as we humans become more insular and lose our ability to communicate with those around us. And, unfortunately, there is more rubbish pertaining to be "top quality" that appears in the press, even I hasten to admit toasted by audio reviewers. I have been often dumfounded at audio shows in the last few years when I put on £1000 cans that either have a totally unreal frequency response or inefficiency that make them anything but portable. Luckily (or unluckily) this review coincided with a short time stuck in a hospital bed which gave me the perfect review conditions to try out the BE6i. Their comfort and truly portable design was of course prime importance during my encumbrance, but the sound quality made my stay all the more painless. Lying in bed forever listening to music was actually fun!
Firstly, they look striking when "assembled", available in either a white/gold version or a classy matt grey/silver finish. The instruction manual is just a set of pictures without words, to save translating endless paragraphs, and was extremely easy to follow to set up within seconds. The flat cable is for me a must-have in terms of design; this idea was introduced to me by Jays IEMs I reviewed for another mag a few years back, and makes untangling and wearing a lot easier. The BE6i is recharged in around 2 hours via a micro USB socket built into the in-line remote control. The remote is very quick acting, remembering up to 8 different Bluetooth devices, and manually accessing a ninth if you are that way inclined. Turning the unit on and playing from my Sony Z5 was simple and took a matter of four seconds. With Sony's NFC that could have been a very slightly shorter time, though that would put up the price. Even forwarding a track or changing volume was quickly done. Some Bluetooth® devices I have tried are not quite so controlled in this particular behaviour. The volume up/down was quick and operated in larger steps (around 2dB from my Sony phone and slightly less from other sources) than some remotes I have used, meaning that whilst getting an exact volume level might be hard, you only need to press and let go to immediately hear that the level has gone up or down, without keeping your button held down still wondering if it actually doing anything, and then before you know it you have changed tracks. My favourite symphony of all, Vaughan Williams London Symphony (London Philharmonic Orchestra, Sir Adrian Boult) has an amazingly quiet start before it lets' loose with the Cockney "Have a banana" theme. With the earphones tightly in place the dynamic range from quietest to loudest was not a problem for these Bluetooth® inner-ear cans, nor was there any audible noise. The 10mm drivers handled the music from this and other albums I played with a bass and top end that lived well up to their £100 price tag.  I value my hearing so wouldn't blast the music, but the background noise was never noticeable apart from that on the music itself, and most importantly the music sounded equally good at all levels that I played it. Whilst they have a 30m range from the sound source, this still does depend on there not being walls or large obstacles in the way, but with most having their phone or HiDef source in their pocket or handbag this was never going to be an issue. The BE6i played the music with a good sense of ownership that made it very enjoyable. The frequency response was very flat from bottom to top. Whilst some might find only their JVC XX Bass Boost IEMs give enough grunt, the BE6i was just plain honest.  David Rees-Williams Trio "Classically Minded" was gentle but detailed from the two pianos (yes, two) I can hear with the bass and drum. The main piano is closer miked on the left with the accompaniment less defined on the right; not the way I would have engineered it.
With Optoma presently releasing a HEM multi-driver IEM series (see review coming shortly) with frequencies from 10-40,000Hz I did wonder if the BE6i could have more appealing frequency credentials. However, when you consider that on top of the music the BT technology needs to convey other functions, such as the microphone, remote control functions and battery information, it is not quite that simple. Be warned about believing those online companies claiming enviable frequency responses.
If Bluetooth IEMs do take off, as I see them doing, then the platform for them will no doubt need to improve to allow this extra bandwidth and greater speed needed to carry more information, just as the original USB has morphed towards USB4 (in around 2020). The future is exciting. Sony, for example, has tackled this with their proprietary LDAC system, which transmits approximately three times more data at around 990 kbps (allows 96KHz/24bit).
Back to the music, Mozart 41st Symphony had all instruments sitting just where they should be in the soundstage, as Mozart sets the first and second violins off against each other in music conversation. This was fun. Turning to Ella Fitzgerald tribute Dee Dee Bridgewater singing Duke Ellington's "Cotton Tail" it felt almost like dummy-head stereo, with the clarity of the ride cymbals against the bass. Neither took supremacy, rather they worked as a team, making the music a pleasure to listen to. Bass in "Spring Can Really Hang You Up The Most", Rickie Lee Jones was superb, the aptX®  making it all sound so easy. This track isn't extremely spaced between all three instruments; with the bass left, vocal centre and acoustic guitar centre right, but all was extremely clear, and I certainly felt no missing bass end. The sound might not be quite as clear and extended as my top spec IEMs of choice, but these are 4 times the price. But bear in mind the lowest note on a full-size piano is 27.5Hz (lowest A), the 20Hz cut-off is not an issue. Only the lowest organ pedal notes in the final movement of Saint Saens Organ Symphony (Jane Parker-Smith, LPO, Serge Baudo) couldn't quite make it for me, though harmonics made it so you wouldn't really notice. Most loudspeakers would find that a tough order. The Division Bell, Pink Floyd, offered me a relaxing and informative apparition into my late youth, yet the detail in the voice and guitar made for an invigorating and musical experience with a depth of sound is clearly audible giving a 3D soundstage, as far as that can be possible stuck inside your head. And when I eventually prised myself away from playing these IEMs, the magnets at the ends of each earpiece married the two together so the BE6i could be worn like a necklace. A very clever afterthought.
CONCLUSION
Now, I don't know about you, but I find my loudest and most excitable friends tire me out and give me a headache quite quickly, and so it can be with many of the IEMs I have listened to. The BE6i was an honest but still a very entertaining friend to accompany me for 8 hours before needing recharging, and I never felt I wanted to turn him off whatever he was playing. There were no sudden cut-off artefacts at each end of the scale, so no concerns about bottom and top frequencies. Perhaps the top could be a little quicker and tighter, but this was already better than many post £200 wired headphones I have listened to. No, I strongly believe this is a cleverly thought-out and designed product, that I even bought one. For £100 this is an extremely good value product and sounds very natural, with nothing sounding out of place. Considering the technology limitations and having heard a number of Bluetooth IEMs in recent years, this is a good buy from a company with a heritage of excellent earphones that go a lot more expensive.